Forensic Science Workshop, November 2017
Yr5/6 were treated to a fantastic forensic science workshop where they measured the growth of maggots to deduce how long they had been at a crime scene, took and studied fingerprints and went on to investigate a crime with 32 suspects. A huge thank you to Mrs West for organising this for us.
SAT's Breakfast 2017
Everyone turned up bright and early every day to partake in our now annual SAT's Breakfast for Year 6.
The children chose their menu: variety pack cereals, crumpets, mini pancakes, strawberry jam, honey apple and orange juice (no bits!).
By the end of the week the 14 Year 6's had consumed 62 boxes of mini cereals, 48 crumpets and 60 pancakes!! The breakfast enabled them to relax, eat heartily and prepare together for the tests ahead.
KS2 trip to 'At Bristol' Summer 2017
On Wednesday 24th May KS2 went to the science museum at Bristol. Year 5/6 took part in a theme day about forensic science where moulds were made of our fingers for finger printing, we investigated the science of DNA, looked at clues left at a crime scene and solved a crime using our newly gained forensic knowledge and skills. During our lunch break, we had time to explore the various interactive activities using our special barcoded wristbands.
Dog's Trust visit 29th November 2016
The Dog's Trust came to our school and talked about how we should look after dogs. . It is important to know what foods we can give them, how to groom them and how to look after them; annual checks are needed.
Stacey chose people to take objects out of a sack that involved looking after a dog. Rebecca took out a microchip scanner and Stacey told us what it was used for and how. She also showed us how to hold a dog on its lead and what you do when crossing the road. It was important to know about safety near strange dogs.
The Dog's Trust was very interesting because some people love dogs and we all learnt something new. By Emily.
We are proud of achievements outside of school
Ethan Yr5 – In late November I went to Plymouth for a swimming gala and won six races over two days. The six races were: 50m fly, 100m and 200m individual medley, 50m and 200m front crawl, 200m backstroke; I got 3 golds, 2 silvers and 1 bronze. It was a Level Two gala (the second to hardest level). I achieved Devon fastest times for the 50m fly and 200m individual medley – I'm now one of the fastest! Congratulations Ethan.
Rebecca & Fenella Yr5 – On the 20th November we went to an athletics competition in Dawlish representing our club, Exeter Harriers. Every athletics group in the county was there. We had to choose three events.
I (Rebecca) chose hurdles, 1 lap and 2 lap races. I came 2nd in the two lap race and 3rd in the hurdles. I had a great time there though it was a long wait at the start (2hrs). Unfortunately I (Rebecca) didn't win anything but I still had a lot of fun. Congratulations to Rebecca and Fenella for taking part.
Thursday 17th November 2016 Parent Assembly
On Thursday 17th November the class did an assembly for parents. We showed the parents some of our work that we had done, some people read out their autobiographies and some read out a diary entry of being a child in WWII. Alice, Oliver and Ethan all talked about what we had been learning about in science. Yes, you guessed it, working on mouldy bread!! I found it fun but also gross too! Everybody showed the Anderson Shelters we had made and Jemima talked about how we made them - of course that was fun. We sang two songs during our assembly. The first was 'We'll Meet Again' and the second was 'White Cliffs of Dover'. We had a great time doing our assembly and I'm sure everyone enjoyed it. By Rebecca, Year 5.
Lighting the Candle Gold Awards (July 2016)
Well done to Daisy, Luana, Nia and Sophie who have completed the 'Lighting the Candle' Gold award. The awards were presented during a special assembly by Tatiana Wilson, our Diocesan Education Adviser, and Mrs Smith who started the girls' journey with the Bronze and Silver Awards.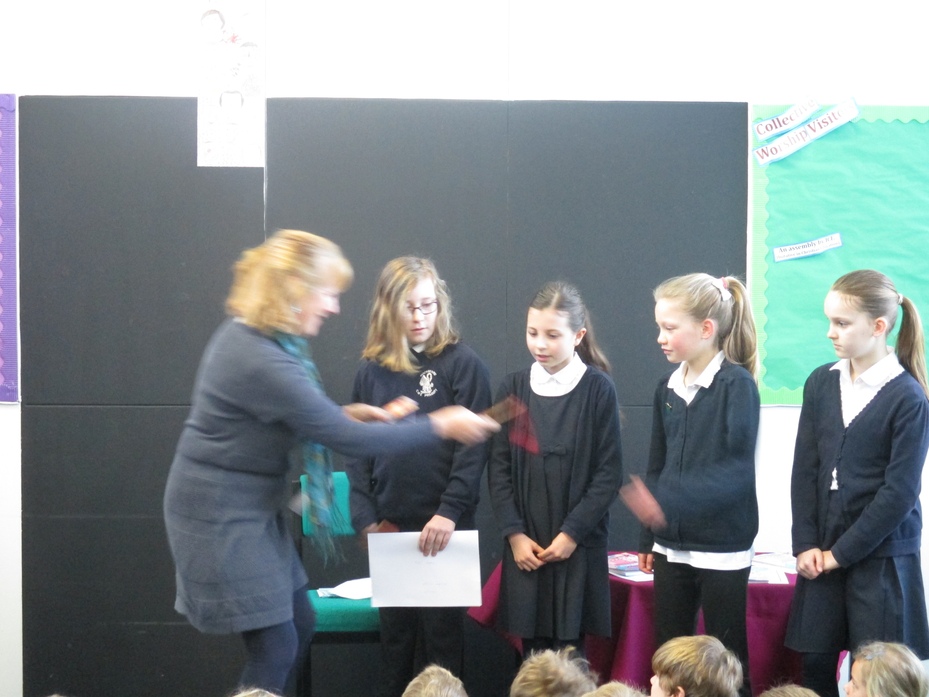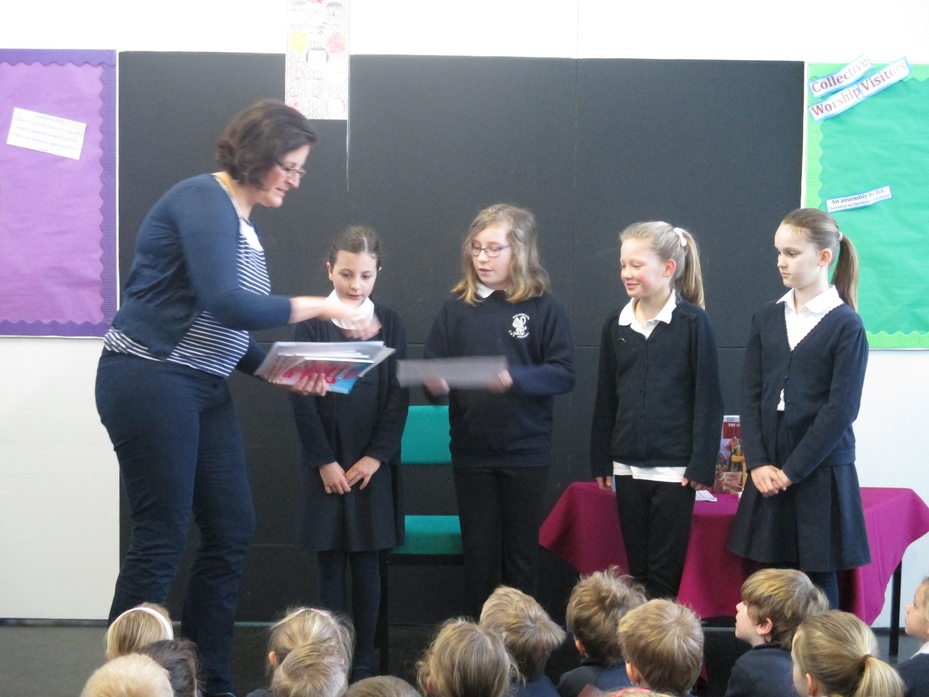 Our Escot Residential Trip, March 2016